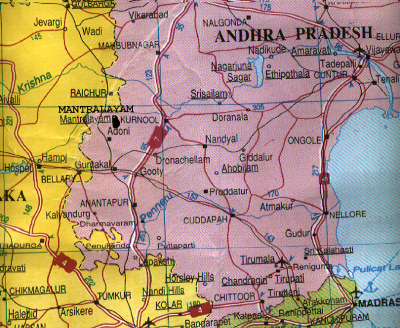 Map of Mantralayam
Mantralayam is situated in Kurnool district of Andhra Pradesh,in India. Various Buses ply from Madras, Mumbai,Banglore,Hyderabadetc. It is 595 Km from Madras and 690 km from Mumbai and around 360 Km from Hyderabad. It has many tourist facilities for pilgrims to stay. It is situated on the banks of river Thungabadhra. It can also be reached by train. It is on the train route between Mumbai-Madras , Delhi-Banglore , Hyderbad-Tirupathi. The station name is "Mantralayam Road", it is 16 Kms from Mantralayam. You can travel to Mantralayam from Mantralayam Road station by private Jeeps, taxis, autorickshaws or public bus. Approximate cost of travel per person is Rs.50 for private transport and Rs.4 for Public Bus.

Genrally,the temple is open between 06:00 and 14:00 and 16:00 to 21:00 (IST). Few years back the golden chariot was added and is an splendour to watch it come round the prahara. Silver and Ordinary Chariots are also there and is a divine feeling to watch it roll round the temple's prahara.
The Mutt also has accomadation available at low costs kindly contact the mutt Manager for reservations and check out the Room Rates Links too. The Mutt also serves one meal between 11-3 pm (as Prasadam) free everyday (except Ekadasi). However if you would prefer luxurious stay with Cable Tv and other facilities kindly check out the links page for other hotels. We wish you the best, for your visit to Mantralayam! For any queries contact the webmaster about suggested travel plans.
Please remember that Mobile phones dont work in mantralayam and mantralayam is also well connected by phones, however you cannot make direct international calls through IDD, you can make international calls only by trunk call booking for an additional charge. There is also an internet parlour started recently near Hotel Guru Brindavan, which could be used to check personal emails(however remember the connection speed is very very slow). Most People in Mantralayam speak Kannada, Telugu, and Hindi , but English and Tamil are spoken very rarely by people.